Classification of Road:
Road are classified as follows
1.On the basic of duration of theirs use
All Weather Road

 Paved and Non Paved Roads.

Fair Weather Road

 Surface and Non Surface Roads.
2.On the basis of traffic volume
Light Traffic Roads

The roads which are carrying 400 vehicles daily on an average is called light traffic roads.

Medium Traffic Roads

 If a road is carrying 400 to 1000 vehicles per day, then it is said to be a medium traffic road.

High Traffic Roads

 If a road is carrying is more than 1000 vehicles per day then it is considered as high traffic road.
3.On the basis of load transported.
4.On the basis of location and function.
National Highways (NH)

 National Highways  are main highways running through the length and breadth of India, connecting major ports, foreign highways, capitals of large states and large industrial and tourist centers including roads required for strategic movements for the defense of India.

State Highways (SH)

 State Highways are arterial roads of a state, connecting up with the national highways of adjacent state, district head quarters and important cities within the state and serving as the main arteries for traffic to and from district roads.

Major District Roads (MDR)

 MDR are important roads with a district serving area of production, materials and connecting with other major roads and state highways.

Other District Roads (ODR)

 ODR roads serving rural areas of production and providing then the outlet to the market.

Village Road (VR)

 VR are the road connecting village or village of groups with each and ODR.
Note: Urban roads are also classified as follows
Arterial Road
Sub Arterial Road
Collector Streets
Local Streets
---
Types of Road Pattern
The various types of road pattern may be classified as follows:
Rectangular or Block Pattern

Hexagonal

Radial or Star and Block

Radial or Star and Circular

Radial or Star and Grid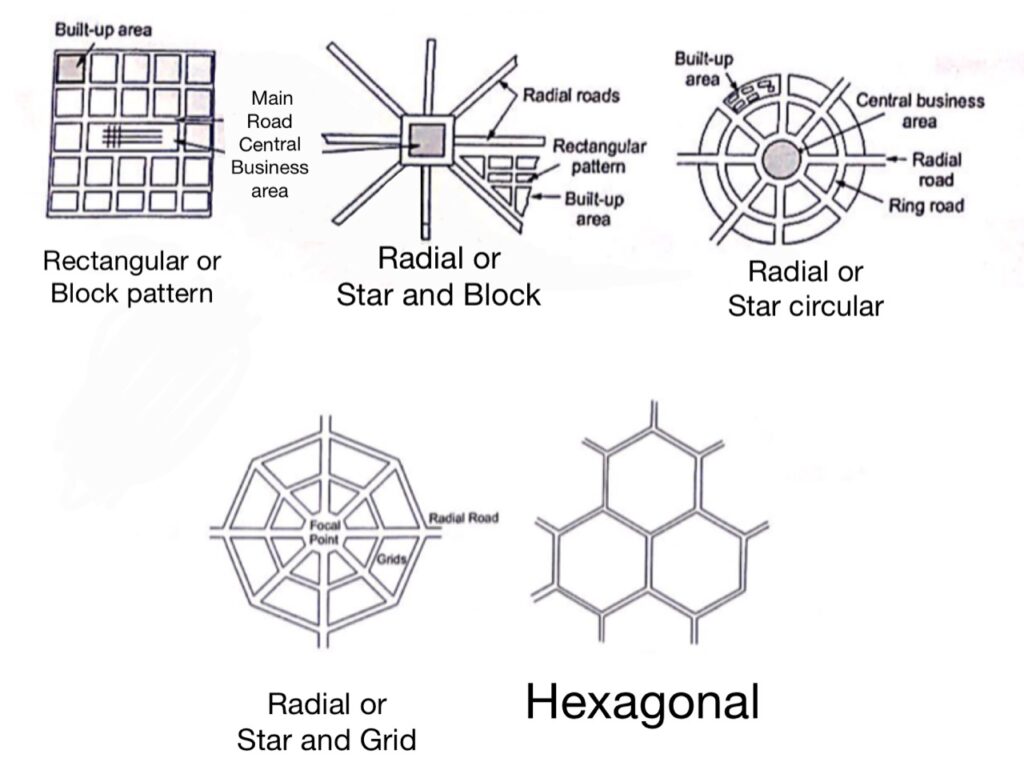 ---
Introduction & Highway Development and Planning