Since 2021, ESE NOTES has been continuously providing the topic on its site as well as improving it (without any cost).
Today, there are many online education websites available on the internet that seem to be complete in their way but are still unable to fully satisfy the students or competitive exam aspirants.
ESE NOTES is a website dedicated to education. We hope that the information on this website will be useful to students and those preparing for competitive exams. This website's content is beneficial to BTech students as well as those preparing for various competitive exams (e.g., RAILWAY, SSC JE, and other governmental exams.).
In the quizzes, we also present a large number of questions organized by subject. The quizzes are organized by chapter, making it easy for students to assess their understanding of the material. This instructional website provides in-depth and up-to-date information on the topics.
The primary goal of this educational website is to make studying easier for students and competitive exam candidates who require relevant information or expertise.
This educational website also aims to inform visitors who want to learn more about various subject areas. Finally, we hope that this website will aid readers in gaining a better understanding of the various topics.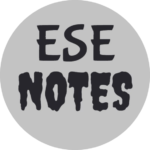 This app is not available on the play store. Soon this app will be available on the play store.
This app is secure and does not collect any kind of data.
This is an original APK file, it's safe to download and free of any virus.
APK (1) is support only portrait mode. And APK (2) supports both portrait and landscape modes.